Swimming
My name is Bill and I am a former world-ranked competitive swimmer. I swam in the Olympic Trials in high school. In master's swimming I was ranked in the top ten in the world. I now compete regularly in 3-mile ocean swims and have won my division for the last two years.
I get rave reviews when I give lessons. In thirty minutes people often learn more from me than they did in all previous instruction. Also people say it is very therapeutic to have a lesson from me, and that it carries over into their regular life. This is because I get you to relax and have confidence, and you then relax more on your job and in life. Unfortunately, I often have to spend some of my time undoing bad habits, and replacing them with proper ones based on Newton's laws and the laws of learning. I teach you the style of crawl swimming used by Michael Phelps. Although you probably will not be as fast as him. : ) I also teach you some other strokes. I also do VIDEO ANALYSIS so you can see your strengths, mechanical defects, and improvements for yourself.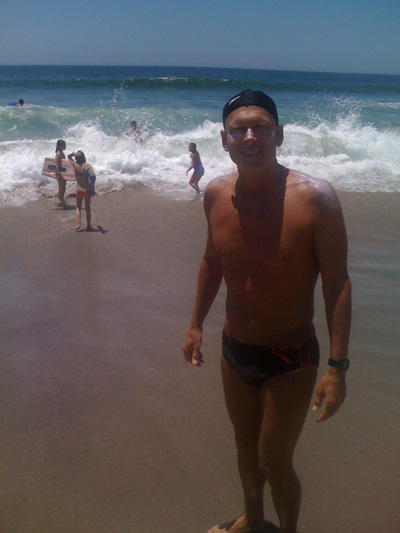 Some of you may be Triathletes who want to get more comfortable in the ocean, improve your efficiency, or get some training advice. I working with many triathletes. Both in the pool and ocean.
Many of you are beginners who never had any instruction, or are afraid of the water. I have taught many beginners, and many people who were afraid of the water to tremendous results. I will build your confidence.
If you want better efficiency, and you do not have your own pool, we can work at one of the local community pools. Right now, I give lessons to people in Culver City and Van Nuys. I can go to Pasadena, Woodland Hills, Burbank, and Calabasas, but I change a little extra for gas and time.
I love swimming in the ocean, and want to introduce more people to the beauty and wilderness available only a hundred yards from the shore. Every summer I swim with wild dolphins, sea lions, bat rays, pelicans, and fish (and even once a grey whale). Whether you want to compete in a triathlon or just swim for fitness and enjoyment in a pool, I can help you.Here is a short video of me doing some ocean swimming that I recently made: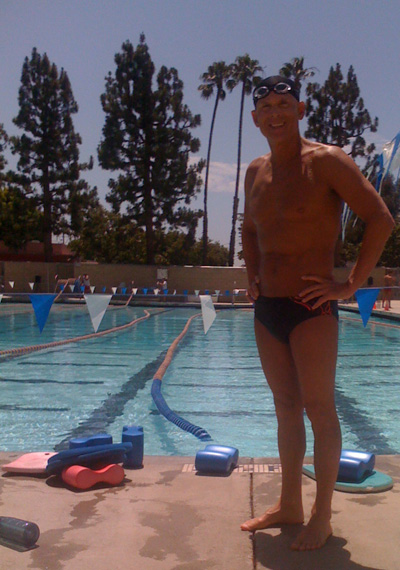 Testimonials:
"I've had two lessons with Bill and it has already revolutionized my stroke. His years of experience not only swimming but in the classroom have given him an almost supernatural sensitivity where the water is concerned. Water truly is his element, and I feel confident in recommending him to teach an adult or child how to swim." Mark
"I've just had one swim lesson with Bill, and as a very apprehensive novice swimmer, I was amazed at how quickly he was able to guide me to a level of comfort and confidence I have never experienced before. I now look forward to exploring my new-found capacity to learn and enjoy swimming." Danny
"I am a triathlete and have been working with Bill to improve my swimming. Bill has been outstanding in helping me build the proper and most efficient stroke for racing. Best of all, Bill's a great ocean swimmer and his beach training made me feel so much more comfortable out there in the waves. I would highly recommend him." Jennifer.
"I am in the pool right now, and I can float in deep relaxed on my belly with no problems. Working on my treading water skills! It's amazing that only three lessons have transformed my confidence in the water!" Manish.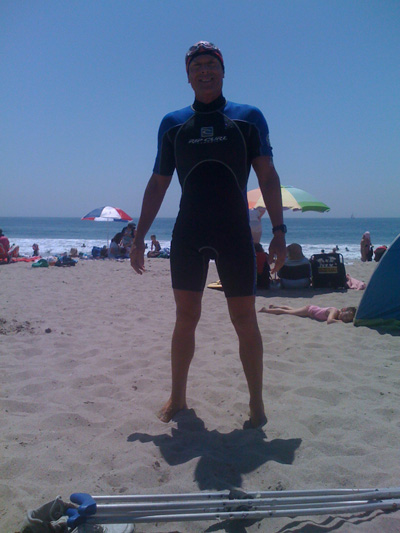 1985-present: Exclusive Private Lessons.
2009 La Jolla Open Water Swim, 3 mile, 1st Place in division.
2008 La Jolla Open Water Swim, 3 mile, 1st Place in division.
2007 La Jolla Open Water Swim, 3 mile, 2nd Place in division.
2005 La Jolla Open Water Swim, 1 mile, 3rd Place in division.
2005 Certified Lifeguard, CPR, First Aid.
2005 Certified Red Cross Water Safety Instructor (WSI).
2004 Playa del Rey, Open Water Swim, 1st Place in my age group.
1991 Hapuna Roughwater Swim, Hawaii, 1st Place in my age group.
1990 Featured on KCET, with Huell Howser; for inventing a new swimming stroke; "moonswimming" which demonstrated sculling action.
1988 Ranked by Swim Magazine in All-Time-Top-10 World Ranking, Two Events.
1985-1990: Master's Swimming.
1982 Fall; Swim Coach, Beverly Hills YMCA.
1980-1982 Swim Coach and Aquatic Specialist -- Department of Recreation and Parks, Los Angeles Parks and Recreation.
1975-1976 Assistant Swim Coach, Summer Youth Team, Edwards AFB.
1973 NCAA Post Graduate Scholarship Award, Swimming.
1972, 1973, Swim Team Captain, US Air Force Academy.
1968: Illinois State Champion, 100 yard breaststroke.
1968 Ranked 25th in world by American Swimmer Magazine.
1968 Summer, Trained with George Haines, Olympic Swim Coach.
1968 Ft. Lauderdale Holiday Training; Trained with Olympic Coach Dr. Counsilman, author Science of Swimming.
1967, 1968, 1969: High School All-American, Hinsdale High School.
1966, 1967, 1968, 1969 Red Cross Lifeguard and Swim Instructor: Hinsdale High School.
Swimming References:
Don Watson, Hinsdale High School Swim Coach, 1963-1978; United States Coach of the Year, 1972, Aquatics Director, University of Texas, 1976-2004.
John Kinsella, 1968, 1972 Olympian and Gold Medalist, Sullivan Award Winner, 1970, World Professional Marathon Swimming Champion: 1975, 1976, 1978, 1979. Graduate: Indiana University, Harvard Business School.
John Murphy, 1972 Olympian and Gold Medalist, Graduate, Indiana University